In an ever-changing world, we all know how important it is to drive a van that is not only economical but practical too.
As a small business owner or someone just starting out, getting your hands on the most suitable vehicle for your needs may feel overwhelming, especially when you have a budget in mind. Throw in a scary price tag, and you're wondering where to even begin!
Fear not! We've got you covered with our helpful top 10 used vans under £5,000 guide:
Citroen Nemo
[Source: www.usedcars.citroen.co.uk]
We found: £4,995 2015 HDi 35,000 miles
Small and versatile, the Citroen Nemo is incredibly bold when it comes to practicality. Perfect for courier services and street to street deliveries, the Nemo is a pleasant drive on any road.
Available in petrol or diesel, models made during 2016 and before can easily be sourced for under the £5k mark.
Citroen Berlingo
[Source: www.honestjohn.co.uk]
We found: £4,995 2014 HDi 98,000 miles
Not unlike the Nemo, Citroen's Berlingo provides ample space for a very affordable price. It's reasonably comfortable and packed with some super innovative storage solutions to get excited about!
Quiet to drive and available in various sizes, the Berlingo gets even more roomy up to the XL edition. So whatever you need from your van, there is likely to be a Berlingo model up for the challenge!
Vauxhall Combo
[Source: www.autotrader.co.uk]
Often found at the top of its class, the Vauxhall Combo is a fantastic option for its carrying ability alone. With ample usable space and able to carry a payload of up to 750kg, there's a lot to like!
The Combo is more than just its space. You will enjoy a good driving experience in a comfortable cabin too. Boasting a 1.6-litre turbodiesel engine, the Combo is a standout for reliability and fuel efficiency.
Renault Kangoo
[Source: www.autoexpress.co.uk]
We found: £4,000 2011 38,000 miles
Strong fuel economy and a spacious, comfortable cabin are worth every penny with the Kangoo. An incredibly versatile and resilient van, you'll struggle to find a more competitively priced smaller van on the market.
Low insurance rates and with a range of fuel and range of outputs on offer, you won't be restrained by choice! Keep in mind that currently, the diesel versions are the most fuel-efficient. If you want to push the boat out, look into the future EV models that are in development.
Fiat Doblo
[Source: www.fiatprofessional.com]
We found: £4,995 2015 JTD 79,000 miles
If you are looking for a van that can handle a variety of tasks, from carrying heavy loads to transporting your family around, the Doblo is for you. Offering incredible fuel economy, exceptional visibility and a smooth ride, the Doblo is growing in popularity across the board.
With the Doblo, you will be thankful for the side sliding doors that offer easy accessibility and ample interior space. The Doblo is an economical option that should undeniably be at the top of your list!
Fiat Fiorino
[Source: www.heycar.co.uk]
We found: £3,899 2014 HPi under 70,000 miles
Mechanically identical to the Citroen Nemo, the Fiat Fiorino can carry a maximum payload of 610kg and a load volume of 2.8 cubic metres. Perfect for courier services and smaller deliveries, the Fiorino is a no brainer.
Available as 1.3-litre petrol or 1.4-litre diesel engine, there are plenty of Fiorino's available for most budgets.
Ford Transit Connect
[Source: www.lookers.co.uk]
We found: £4,850 2012 57,000 miles
Ok, we're not going to lie. In the under £5k bracket, the Connect models available aren't quite as sexy and stylish as their upgraded sisters. But if it's a practical, functional and comfortable driving experience you are after, then the Connect is the one for you.
Ticking all the excellent fuel economy, spacious cab and ride quality boxes, you won't struggle to find a worthwhile Connect for your budget.
Mercedes-Benz Citan
[Source: www.businessvans.co.uk]
We found: £4,850 2014 CDi 116,000 miles
If you're not quite taken with the Kangoo's quirky design, then the Mercedes-Benz Citan might be the one for you. Underneath its skin, the Citan is not too dissimilar from its Renault cousin.
Offering a dependable and efficient engine matched with comfort and ample space, there's a lot to get for your money. What's more, there are a versatile range of body lengths available to suit your storage needs.
Peugeot Bipper
[Source: www.autoexpress.co.uk]
We found: £3,995 2013 HDi under 52,000 miles
Capable and functional, the Bipper is a small van with a big heart. If you've got your eyes set on an inexpensive to run and cheap to buy vehicle, your search is over, my friend.
Storage is no issue with the Bipper either, as it can carry anything up to 610kg. Nippy and efficient on the roads, you can easily bag yourself a bargain with modest mileage to boot.
Volkswagen Caddy
[Source: www.autotrader.co.uk]
We found: £4,995 2013 TDi 88,700 miles
Bursting with excellent car-like handling and a big carrying capacity, the Volkswagen Caddy is undoubtedly an investment buy. You'll be hard-pressed to find a VW that hasn't got high mileage attached in the price bracket, but don't let that put you off!
Found your next van? Finding the perfect vehicle on a budget isn't as daunting as you think. Take a look at our financing options to make your money go further.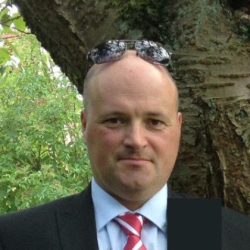 Latest posts by Paul Thompson
(see all)