The van market is booming, and it's no surprise. Practical, affordable and cheap to run. Small businesses up and down the country have found their perfect solution to match their customers' growing needs! 
Coming in various sizes and offering storage capabilities above and beyond previous models. This is certainly the year to leap into the van market. Throw in drool-worthy technology and a driving experience like no other, and you'll be wondering why it has taken you this long to jump on the bandwagon.
Not sure where to begin? Here is our rundown of some of the best vans around for small businesses:
Ford Transit Connect
[Source: www.lookers.co.uk]
Now in its second generation, the Ford Transit Connect is the UK's biggest-selling small van. The Connect offers a car-like driving experience and features Ford's impressive 1.5-litre EcoBlue diesel engine and a 1.0 litre EcoBoost petrol engine.
With a handsome loadspace of up to 4,500 litres and a payload of up to 865kg, the average small business owner will be laughing with the Connect's capabilities.
Matched with excellent fuel economy and offered in either standard or long-wheelbases, accessibility is made effortless with the innovative sliding doors included. You'd be hardpressed not to find a competitively priced Connect to suit any budget.
Nissan NV200
[Source: www.nissan.co.uk]
Whether you favour a Panel, Crew or Combi van, the Nissan NV200 is the one for you. With its wide-opening rear doors and one or two sliding side doors, loading is swift and incredibly efficient. What's more, the loadspace is impressive and can hold up to 4,600 litres or an 800kg payload.
Powered by a 1.5-litre turbodiesel engine, the latest NV200 models come with an enticing five year/100,000-mile warranty.
If you want to get ahead of the game, the electric version sports a desirable 162 miles real-world range. Off of a single charge, the EV model can cover between 124 – 187 miles. Perfect for the Ultra Low Emission Zone (ULEZ) cities and local deliveries.
Vauxhall Combo Cargo
[Source: www.carmagazine.co.uk]
Sporting a good variety of trim levels, two lengths, one roof height and a Crew van option, the Combo Cargo is an impressive small van. Packed with plenty of safety kit features. Petrol, diesel and EV models available, there is quite a lot to get excited about!
As a relative newbie on the block, the Combo Cargo is a multi-award winner and has picked up the Small Van of the Year Award from the 2019 Great British Fleet Awards. Refined and comfortable, it's no surprise that the Combo Cargo rarely leaves the spotlight.
Offering an impressive fuel economy and a payload of up to 1,000kg, the Combo Cargo is well worth a look.
Renault Kangoo
[Source: www.autoexpress.co.uk]
Winner of the 2018 What Van? Awards 'Green Award,' the Renault Kangoo means business. Not only does it tick the 100% electric or diesel boxes, but it can be bought as a basic van, a longer Maxi Van or as the Maxi Crew Van.
With its generous specification, comfort and innovative storage solutions onboard, the Kangoo is a no brainer for forward-thinking small business owners. What's more, the Kangoo can hold a payload of up to 800kg or a loadspace of 4,600 litres.
Volkswagen Caddy
[Source: www.commercialfleet.org]
No 'best vans' list is complete without the Volkswagen Caddy. Constantly topping the awards lists, the Caddy cannot be ignored. It won the 'Best Small Trades Van' in the Business Van of the Year Awards 2018, .
Expectations are high with any VW that leaves the forecourt, and the Caddy is no exception. Sporting high build quality, comfort, refinement and an outstanding resale value, the Caddy is a leader of the pack.
Offering a slightly smaller payload at 735kg, where the Caddy lacks in space, it still soars in practicality and fuel economy.
Peugeot Partner
[Source: www.drivingelectric.com]
Crowned as 'International Van of the Year' in 2019, the Peugeot Partner's reputation is worth the fanfare. Available as a panel or crew van and two body lengths, the Partner is a resilient, innovative and capable motor.
You can even combat emissions by opting for the impressive Partner Electric. Or you can choose the powerful and efficient turbo diesel engine. With an in-built i-Cockpit dashboard and state of the art safety features to swoon over, the Partner is a welcome addition to any small business. 
With a payload of up to 1,000kg and a loadspace of 4,400 litres, the Partner stands above a lot of the rest on this list!
Whatever your small business needs, the perfect van solution is out there waiting for you to take the leap! Want to check out your finance options first? Have a look at our easy application tool to get you started.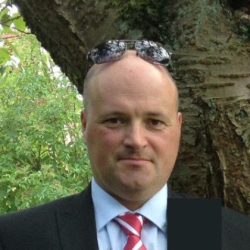 Latest posts by Paul Thompson
(see all)