With more and more people working from home, vans have never been so sought after! Deliveries have surged nationwide as we all navigate the "new normal." Everyone from the small business owner to the high-end mogul has had to adopt the most effective and economical way of getting their goods to their customers.
Want to get ahead of the pack?
Whether you're after your next van or are new to the market, we've got you covered. Here are our top 10 used vans under £10,000:
Ford Transit Custom
[Source:
www.autotrader.co.uk
]
We found: £8,995 2016 Under 100,000 miles
With its generous loading bay, square and practical design, the Ford Transit Custom is a no brainer. The Custom has been the UK's best selling van since 2014, which is praise in itself. Throw in its exceptional driving experience, and you'll be laughing as you drive to your next destination.
Comfortable and spacious, the Custom comes in several different configurations that can seat between two and nine people. Available in two different lengths and heights, you can easily carry a payload of up to 8.3 cubic metres or 1.530kg of goods.
If you go for the 2.0 litre Euro 6 EcoBlue diesel engine, you can avoid inner-city emissions charges too!
Volkswagon Caddy
[Source:
www.carbuyer.co.uk
]
We found: £7,995 2013 62,000 miles
Mixed with its clever engine management system and its intelligent and economical design, the VW Caddy is a popular vehicle in its class. Designed with an ultra-efficient 101bhp BlueMotion Euro 6 2.0 litre engine, the Caddy is a welcome addition to your fleet.
The Caddy is available in standard or Maxi length, carrying a load of up to 4.2 cubic metres. You'll be pleased to know that twin sliding doors come as standard for easy and efficient access. All in all, the Caddy is an innovative and nippy vehicle.
Volkswagon Transporter
[Source:
www.autoexpress.co.uk
]
We found: £9,999 2011 94,000 miles
Nothing says versatile and practical more than the classic Volkswagon Transporter. A powerhouse of a panel van, the Transporter can achieve 204bhp while carrying a substantial load between destinations.
Available in a variety of designs that cover short and long wheelbases as well as standard, medium and high roof heights, there is a lot to get excited about!
Peugeot Partner
[Source:
www.heycar.co.uk
]
We found: £9,500 2017 71,000 miles
An award-winning light commercial vehicle, the Peugeot Partner has won numerous awards over the years, including International Van of the Year 2019.
The Partner stands out due to its sheer versatility and capabilities. It comes in two lengths and even comes in a smaller version which can accommodate up to two euro pallets. The longer version goes a step further and can carry a payload of just over 1,000kg comfortably.
What's more, the Partner offers an extraordinary driving experience on the road. Fun, engaging, smooth and incredibly responsive, you won't want to drive your car after this!
Citroen Berlingo
[Source:
www.honestjohn.co.uk
]
We found: £7,320 2017 Blue HDI Enterprise under 90,000 miles
Offering excellent reliability, efficient engines and incredibly low maintenance costs, the Citroen Berlingo often leads the pack. Car-like to drive and practical, the Berlingo is a nippy vehicle that is great for street to street deliveries in the UKs bustling cities and towns.
Available in two lengths and can seat up to seven in some models, the Van Expert named the Berlingo "one of the most practical vehicles on the market in terms of passenger space on a small platform."
Ford Transit Connect
[Source:
www.carscoops.com
]
We found: £7,795 2015 TDCi under 100,000 miles
A fantastic all-rounder, the Ford Transit Connect is capable and durable. It is often found within the top ten of any bestselling van list and sat at the no. 7 spot in the UK back in 2019. Not only does the Connect look great, but it also drives beautifully on any road.
With a range of configuration options available that can carry a payload of up to 3.6 cubic metres, the Connect is a solid purchase. Spacious, comfortable and with its smooth engine, there's a lot to like!
Peugeot Expert
[Source:
www.autotrader.co.uk
]
We found: £7,999 2016 HDi under 63,000 miles
Like the Partner, the Peugeot Expert is an award-winning van. This medium van is not only crafted with superior styling, but it is competitively priced across the board.
Easy accessibility, spacious and offering a choice of three load lengths, three trim levels and three nominal gross vehicle weights, there's a lot to get invested in with the Expert. Go for either the 1.6 litre or 2.0 litre PSA engine, and you'll see how powerful this van is on the road!
Vauxhall Vivaro
[Source:
www.honestjohn.co.uk
]
We found: £8,995 2016 CDTi 116,000 miles
Smart and practical, the Vauxhall Vivaro competes with the Peugeot Expert. Offering an innovative load-through hatch that lets you slot longer items into the cabin is a welcome addition to the Biturbo and Sportive models.
Bargains can be had with the Vivaro, so keep an eye out on the best-used lists out there to grab yourself a deal.
Mercedes-Benz Vito
[Source:
www.mercedes-benz.co.uk
]
We found: £8,995 2014 CDi under 120,000 miles
Offering a fantastic automatic gearbox and a good standard of equipment, the Mercedes-Benz Vito is up there with the bestselling medium panel van class. With its decent fuel efficiency and choice of front and rear-drive models available, the Vito is quite the standout.
Cabin storage is a bit shy compared to come of the others on this list, but the driving experience matched with competitive pricing is enough to get excited about in our book!
Ford Transit Courier
[Source:
www.topgear.com
]
We found: £9,495 2018 TDCi Euro 6 19,600 miles
Completing Ford's Transit lineup, the Courier is exceptionally practical, flexible and is simply very good! Offering a comfortable cabin with ample room for storage and goods, the Courier is a worthwhile ride.
Pleasant to drive and perfect for inner-city and town roads, the Courier might well be the next best thing for your business to fly!
Financing your vehicle is only a click away – check out our simple online system here. Whatever your business needs, getting your hands on a practical and efficient van is your next step in the evolving world!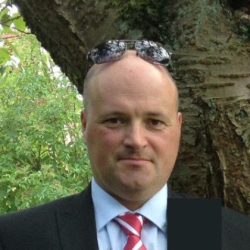 Latest posts by Paul Thompson
(see all)