Generally speaking, UK roads are pretty safe to drive when compared to the rest of the world, according to CARE (the EU's road accident database). With a mixture of human error, terrain and temperatures all playing their part, accidents invariably happen, but for the most part, can they be avoided?
Every driver thinks they know the safest roads to drive. Your own experiences of familiarity, ease to drive and more all build up a picture of what is risky and what is safe. At the same time, some roads just are safer. They don't have steep inclines, sharp bends or light confusing tree tunnels, and their fatality scores are low.
Want to know what the 10 safest roads to drive in the UK are? Well, now's your chance. Read on to find out more:
Windsor Bridge: A3604
Cutting through the River Avon and skirting the west of Bath City Centre, you will find yourself on the A3604. It's a simple link road connecting the A36 and A4 that features good visibility and minimal junctions, ergo, limited opportunities for accidents! 
Even Windsor Bridge has been designed with the greatest of care with traffic in mind. Sporting three lanes, unlike older bridges that were originally intended to support a horse and trap, this one was constructed in the 1980s.
You'll likely find yourself stuck in a brief spell of stationary traffic for joining the A4, but other than that, it's smooth sailing.
London Docklands: A1263 
Sandwiched between Leamouth Roundabout and the A13 East India Dock Road, you will find one of London's safest roads. Despite only being a short link road, the A1263 sees an average of 27 million vehicle miles each year. What's most remarkable is that between 2007 – 2016, there was only one recorded accident.
With an accident rate of 0.037 per 1 million vehicle miles driven, the odds are certainly in your favour along this busy road.
Lanark's Short Link Road: B7017
Blink, and you'll miss it. Lanark's short link road, the B7017, is one of Scotland's safest roads. Unlike some of the more challenging passes climbing through the craggy Highlands, this gentle route takes you straight through the heart of the industrial town to the southeast of Glasgow.
Think high street bustle with a collection of intermittent traffic lights, and the most dangerous feature you're likely to experience is making a wrong turn due to a lack of signposting!
Pembrokeshire: A4072
Pembrokeshire is bursting with beautiful landscapes, rolling hills and gorgeous coastal towns. At first glance, the weaving roads may send alarm bells ringing if you're a more timid driver.
Then, there's Pembrokeshire's short link road, the A4072 that connects the A40 and the A478. The route crosses the railway line to Pembroke Dock before coming to an end at Templeton before joining the A478.
This super safe road so rarely sees an accident. Its recorded rate is just 0.052 accidents per million vehicle miles driven. You are more likely to trip over in the street than have a collision on this safe street. 
East Midlands: M42
Motorways are notoriously dull. They are well known for their odd junctions and slipways that vein their way through the length and breadth of Britain. As well as taking you by surprise when the whole carriageway comes to a startling halt. Screeching tyres and half-crazed looks are all expected, and that's before you realise the devastation that has made you have to pull an emergency stop at 70 mph. 
Unlike the top risk players like the M6, the East Midlands is home to the safest motorway in the UK – the M42. Running northeast from Bromsgrove in Worcestershire all the way down to Ashby-de-la-Zouch in Leicestershire. This relatively uncomplicated straight will boost your confidence behind the wheel. 
Greater Manchester – Merseyside: A572
Sharp bends often go hand in hand with greater risk. However, just because they are there doesn't mean that the road you are driving is less safe. You have to engage your brain to drive anyway, right?
The road is working its way through the urban sprawl of Worsley, then through Astley and Tyldesley. You'll meet several dissecting roads and a few minor roundabouts. But with good signage and well-constructed roads beneath your wheels, you can trust in the safety of this route.
Tunbridge Wells: B2249
Meandering through the Royal Tunbridge Wells countryside, you will find the recently created B2249. Incorporating parts of the former A246, this road gently curves towards the T-junction before sweeping back towards the south.
Yes, the road features high hedges and closely edges Caverley Park, but it's an open, clear route that rarely sees a bump, let alone more severe accidents.
Bolton: A6058
Slicing through the centre of Bolton, the A6058 is a relatively short A-road that is overshadowed by the inner ring road one-way system. So much so that it's difficult to tell the two roads apart.
Starting at the incredibly complex A666 and A579 junction on the eastern side of town, the A6058 carefully makes its way along Lower Bridgeman Street's one-way system. With little space to fight with oncoming traffic and rarely going over 20 mph, your safety is pretty much guaranteed.
Leeds: M621
The M621 is an unusual road as it forms a loop that cuts straight through Leeds city centre before diving out the other side. 
Originally named the South West Urban Motorway, the M621 is the connecting road between Leeds and Gildersome. Motorists often find themselves on it by accident, as the multiple M1 junctions are confusing as heck. But, while on the M621, you can trust in its high capacity ability to handle the traffic. It has been cleverly constructed with obvious lead-ins and outs that even the more fearful driver can get behind. 
Huntingdon to Cambridge: A14(M)
This relatively new expressway connects Huntingdon to Cambridge. Thought to be the next-gen motorway-style road in the UK, you get all the most advanced road safety features, increased visibility and little room for human error.
Feeling safe on the road is one of the most significant factors that affects your confidence behind the wheel. With an increased focus on raising awareness of accident-prone spots, that's enough to be a red flag to anyone. Did any of your personal favourite roads make our list?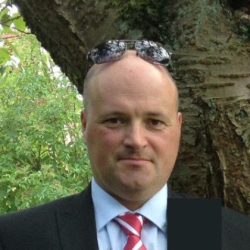 Latest posts by Paul Thompson
(see all)