The UK is home to some of the most dangerous roads around. If you've ever driven the likes of the Lake District's Kirskstone Pass or anywhere along with the Peak District, then you know for yourself how treacherous driving can be. From sharp hairpin bends to windy craggy hilltops, even the most seasoned motorists can be overcome by the challenging conditions. 
Planning your journey ahead of time is one of the most powerful tools you have as a driver. Having a SatNav or a maps app on your phone will give you all the live on-the-road data as it's happening, but more than that, you can prepare for the worst. So pack some snacks, a warm blanket and a jacket; here are the 10 most dangerous roads to drive in the UK:
Kirkstone Pass: A592
Surrounded by spectacular, jaw-dropping scenery, the infamous Kirskstone Pass is the Lake District's highest pass. It sweeps through Ambleside in the Rothay Valley to Patterdale in Ullswater.
Locals are no stranger to the A592's perilous bends and stretching slopes either, calling the A592 stretch the Struggle. Reaching 1,489 feet (454m), this gruelling bit of road requires your full concentration. So don't get too distracted by the beautiful lakes and impressive Kirkstone Quarry along the way.
Snowdonia's Mountainous Passage: A496
If you've ever set foot on Snowdonia, you've seen first-hand the twisting roads that weave their way through the earth as though they are veins themselves. One of them is the prolific A496 that connects Blaenau Ffestiniog to Llanelltyd.
The road features a diverse landscape that is impressive as much as it is ominous. With a cluster of villages, coastal views and mountainous passages along the route, it's no surprise that so many motorists have been caught out over the years.
Snake Pass: A57
If names are anything to go by, then Snake Pass wins hands down for its realistic description. Winding its way through the Pennines, the A57 was once the main route between Manchester and Sheffield.
First opened in 1921, Thomas Telford engineered the road as the main linking road between Ashopton's Ladybower Reservoir and Glassop in the Pennines. Today, the road is renowned for its high accident and casualty record, with 137 accidents recorded between 2014 and 2018. With a particular vulnerability to snow and subsidence, it's worth finding a different route during the winter months.
Hardknott Pass
Craggy, challenging, and considered one of the most challenging routes in the whole of Britain. Hardknott Pass has earned notoriety over the years, particularly for its series of hairpin bends and high risk of ice. Steep and twisting, the single-track road cuts right through the heart of the Lake District between Eskdale and the Duddon Valley. 
This ancient road is home to Hard Knott Fort. One of the loneliest outposts of the Roman Empire, which overlooks the pass. With Ambleside and the Langdale Valley en route, make sure you don't get distracted by the history-rich hills and epic landscape!
Rutland: A1
One of the first roads to earn a name during the 1920s, the A1 is one of Britain's longest roads linking London to Edinburgh. Along its mighty stretch, it passes through Rutland in the East Midlands, home to 38,000 residents. What's most alarming is that the number of fatalities to occur in this region equal 5 deaths per 10,000 people.
Mixed with heavy congestion and a high percentage of lorry traffic, it's worth considering another route to avoid potential risk and, well, gridlock!
Launceston to Lifton: A388
Not only does the A388 carve through rural hillsides and include a range of steep inclines and bends, but it is particularly dangerous for young drivers. Locals are always on high alert for potential crashes. There's little wonder as to how this road has become so notorious. 
Between 2013 and 2018, the road saw 17 collisions of varying severity and some fatalities. From changes in light to untimely junctions, the A388 is a risky route.
Cat and Fiddle Road: A537
For some motorists, the Cat and Fiddle Road between Macclesfield and Buxton is a real treat to drive. It is packed full of variety, from the sweeping Peak District twists and turns to the high climb to the iconic Cat and Fiddle Inn at its summit. But for several drivers, taking on this challenging stretch has come at a tremendous cost, whether injury, collision or even death.
Over the years, the A537 has been a persistent high-risk road and regularly features amongst the most dangerous roads in Britain.
Petworth, West Sussex to Chichester: A258
Home to long, fast straights, several sharp bends, and terrible visibility. The A258 is not a road to be driven lightly. With its sudden elevation and an odd residential area thrown into the mix, this road is as unpredictable as it is dangerous. 
Whether you're driving in harsh, wintery conditions or dappled sunlight, caution is always recommended along this treacherous route.
Gateway to Somerset: A303/A371
Iconic landmarks such as Stonehenge, Castle Cary, and Cheddar Gorge are littered throughout this landscape. The A303 and A371 have become hot spots for heavy holiday traffic and the main route for most commuters in the area. 
The 12-mile stretch is home to sudden drops, soft verges, light-altering tree tunnels. A whole host of twists and turns to keep you on edge. Throw in a series of road works, stressed commuters and it's no surprise that this has become one of the South West's most dangerous roads. 
Rosedale Chimney Bank
Known as the "Chain Breaker" by cyclists, Rosedale Chimney Bank poses a steep challenge for even the most robust motor engine with its 13% incline. It shares the "steepest road in England" title with the formidable Hardknott Pass.
Despite not being a major road, this highway takes minor traffic through the North Yorkshire Moors. Connecting Rosedale Abbey to Hutton-le-Hole, you can expect dizzying heights, quick drops and an unforgiving hill climb. This one is definitely not for the fainthearted.
Despite being a small island, the UK is home to some of the most challenging roads. Whether you want to take on the epic Highlands or sweep through the North Yorkshire Moors, one thing's for sure. Always be prepared!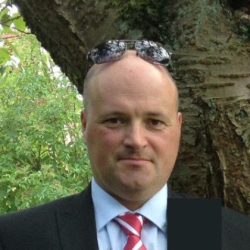 Latest posts by Paul Thompson
(see all)