Today, you can't go far without spotting the latest Tesla, or Nissan Leaf parked up on the side of the road. More and more charging points are finding their way into everywhere from your local supermarket to the city-bound car park. That's before you consider the hundreds dotted along the UK's motorways. 
Unless you've been hiding under a rock for the past few years, the motoring industry is rapidly changing. Spurred on to meet the demands of the government's "Green Industrial Revolution" plans and the ban of all new diesel and petrol car sales in 2030, the country's interest in electric vehicles (EVs) has undeniably peeked. 
If you've ever wondered which UK cities have the most electric vehicles in 2021, you're about to find out!
London: The EV epicentre
For centuries, London has been at the heart of the UKs commerce, trade and the seat for fallen empires to boot. Where sewage-ridden streets, cramped and unsanitary living conditions and horse-drawn carriages may have been the pressing issue a hundred years ago, today, it is the alarming nitrous oxide (NOx) levels.
At its peak, the toxic pollution made from city traffic alone was reducing life expectancy, inhibiting lung development, and making chronic illnesses much worse. What's more alarming, at least 360 of Greater London's primary schools are located within these illegal pollution level areas. 
To prevent further damage to Londoner's health, and with an aim to radically improve air quality throughout the city, the world-leading initiative, Ultra Low Emission Zone (ULEZ), was rolled out in April 2019. Anyone driving within this zone now has to pay a daily fee if their vehicle doesn't meet the strict emissions standard. 
Currently, any vehicle that is Euro 6 (diesel), Euro 5 (petrol), hybrid, or 100% electric can drive throughout the city without charge. But even this is about to change.
As a result, London has become the number one city for EV ownership. Living in an already expensive city, its residents have earned several discounts on the way to persuade them to take up the EV mantel. Matched with the government "Plug-in Grant" scheme and the looming 2030 diesel and petrol ban deadline, it's no surprise that London is leading the charge. 
Birmingham
Led by London's example, Birmingham has become one of the newest cities in the UK to roll out a low emission zone. Its called the Clean Air Charging Zone (CAZ.) Cars, vans, lorries and taxis all must meet the strict emissions standards. A daily £8 fee to travel within the zone is expected to land this year. 
Birmingham is not a small city by any standards. It is home to over 1.1 million residents, with over 60,000 alternative fuel cars spread out amongst them. To date, there are less than 100 public charging points dotted throughout the area. But with the 2030 ban on its way, this is set to increase to keep up with growing demand. 
Manchester
Manchester offers many great attractions such as the Old Trafford Centre and a range of noteworthy museums and heritage sites. A reason enough to hop in your car and explore what this iconic Lancashire city has to offer. 
But that's before you take into account the 3 million people living there too. Going about their day, shopping, working and commuting to weave a whole ton of congested highways and broken roadways.
In the last three years, Manchester has seen a significant rise in EV ownership. At last count, the city is home to 213 public charge points and around 2,000 EVs on the roads. That may sound like a drip in the ocean, but over 70% of the locals agree that EVs are the future.
Leeds
One of Yorkshire's most abundant cities is Leeds. It is home to the iconic Civic Quarter, the historic Briggate shopping centre and the impressive Royal Armouries Museum. It's also a stone's throw from the Yorkshire Dales and not far from the Lake District. But with such an array of inviting sights and experiences on offer, Leeds has also become another victim to high levels of pollution. 
In mid-2020, Leeds City Council introduced their version of ULEZ, the Clean Air Charging Zone (CAZ). Like the other low emissions schemes, the aim is to reduce air pollution and protect the health of everyone within the city.
With a population of over 800,000, there's an impressive 18,000 EV vehicles currently registered throughout the city. What's more, the city council have dotted over 130 public charging points all around. They aim to make access to EV technology as easy as possible. 
Portsmouth
Home to Her Majesty's Naval Base, Portsmouth is well known for its maritime history and ever-busy port. As well as its rich past, the city's current endemic is linked to the toxic levels of air pollution residing throughout the town. With over 100 deaths a year linked to air pollution. The city has introduced its own CAZ area to combat the rising fatality levels. 
With nearly a quarter of a million people living within the city, there's already an impressive 8,000 alternative fueled cars on its roads. The city has also recently been awarded a £6.6 million grant to further support and develop EV infrastructure and comply with the enforced air pollution levels in 2022.
Bristol
A vibrant cosmopolitan city, Bristol is one of the UKs most loved and visited areas. With its popular harbourside, historical intrigue, and buzzing selection of eateries and bars, there's plenty on offer for the commuter, tourists, and locals alike.
Nearing 500,000 residents, Bristol's busy streets have been leaving their mark on its inhabitants' health and well-being. With the city's eco-friendly patrons leading the charge. Nearly 3,000 registered alternative fuel vehicles on its roads already, the EV revolution is well and truly in gear. 
From October 2021, Bristol will launch its Clean Air Zone (CAZ). Initially, it will cover a small area of central Bristol, where older and more polluting HGVs, coaches, buses, light goods vehicles (LGVs). Private cars and taxis will be charged to drive within the zone. 
Leicester
Not only is Leicester city centre the home to Richard III – the king found in a car park, but it is also one of the leading UK cities for EV infrastructure and ownership. With over 355,000 residents, there is a respectable 2,600 (and rising) registered alternative fuel cars in the city.
Currently, plans to roll out a low emissions city-wide scheme have been put on hold as researchers have concluded that air quality has "significantly increased." With the city council's own forward-thinking Air Quality Action Plan – which was introduced in 2015, no further action is needed in the run-up to making the city compliant with the EU nitrous levels. The latter coming into full effect next year.
Brighton & Hove
It's hard to think of Brighton & Hove without imagining its iconic deco pier. Or King George IV's luxurious Royal Pavillion or ABBA holding the Eurovision title high way back when. Today, it is a cultural hub and one of the UK's leading destination cities. 
Ever since 2015, the city has been operating its own low emission zone. Millions of pounds have been invested in making the city's transport more green and compliant with strict Euro emission standards. So it makes sense that the city is home to one of the UK's most significant EV populations.
With a population of nearly 300,000, there are currently only 1,600 alternative fuel vehicles registered within the city. But, with the pressures of 2030 looming as well as hitting all the EU nitrous levels standards, this number is set to soar.
Nottingham
Nottingham's city walls have stood for millennia. Although most of them have crumbled and disappeared over the years. But the sense of unparamounted history, mystery and grandeur can still be felt. Its lasting connections to the mythological Robin Hood have also added to the city's overwhelming appeal. Luckily this keeps tourists and locals coming back again and again. 
The city is by no means small. It houses over 330,000 people. That's before you count the added pressure of commuters, visitors and their collection of air-polluting vehicles. Unlike others on this list, the city has a good proportion of public charge points to EV ownership. The city has nearly 1,900 registered alternative fuel cars. The government's big push for a zero-emissions country is well on its way.
Liverpool
The birthplace of The Beatles and two of the most well-loved football teams in the country Everton FC and Liverpool FC. Liverpool has been on many people's radar for a long time. The city has notorious ties with the Industrial Revolution and several World Heritage Sites. It is a cosmopolitan centre for all things culture and adventure. 
Alongside places like Amsterdam, Los Angeles, Copenhagen and Jakarta, Liverpool became one of many world cities to sign the game-changing C40's Green and Healthy Streets Declaration in 2019. The main aim is to combat air pollution. Improve the quality of life for all residents and take new actions to protect the climate. 
Since then, Liverpool is now home to over 1,330 registered EVs. It has approximately 120 public charge points throughout the city. What's more, after successfully winning a £6.4 million bid from the government, Liverpool City Region became the first place in the North of England to trial hydrogen buses in 2020. Now one of the leading voices for EV development and tackling climate change, Liverpool is about to see a significant rise in its EV population. 
Southampton
Southampton has seen many sights over the years. From birthing the doomed RMS Titanic's maiden voyage to being the home of the groundbreaking Spitfire, the city is renowned for its innovation and maritime heritage.
Southampton is also home to one of the UKs most significant EV populations. With just over a quarter of a million people living in the city, there are over 1,020 registered alternative fuel vehicles. Statistically speaking, that's a remarkable step towards a greener future. With over 60% of residents in support of the EV industry, that number is about to increase exponentially.
Bournemouth
Beautiful sandy beaches and jutty out piers. Those are just some of Bournemouth's defining features, that have made it such a popular destination over the years. You no longer have greasy fish and chip joints lining the promenade. Instead, innovative chefs have transformed the foodie scene into one of delight. 
Focus in on Christchurch Road, and the town's heavy footfall is leaving a lasting mark on the native's air quality and overall wellbeing.
The heavy toll of congestion has meant that toxic pollution levels are no longer legal. In a move to combat this, Bournemouth will be home to its own CAZ in the UKs attempt to meet the EU emissions requirements due to be enforced in 2022.
Impressively, despite having a population of nearly 400,000, Bournemouth has over 1,060 registered alternative fuel vehicles. Now that might be a far stretch to topple the odds statistically speaking. But the town is well on its way to meet its strict low emission standards. With over 60% of the locals in support of EVs, change is definitely on its way for Bournemouth. 
The moment life-changing technology is released into the world, it is unstoppable. UK government is pushing for zero-emission status by 2030. Soon the roads of Great Britain will look very different. 
Today, you have better access to the world's bestselling EV models than ever before. Not only is car finance more readily available (trust us, we know a thing or two about that!), but you also have the "Plug-in" grant to lighten your financial burden.
Whatever you think about the "Green Industrial Revolution," the timer has already started ticking. As we march closer and closer to the 2030 deadline, it's time to consider your next car purchase. Which EV will top your wishlist?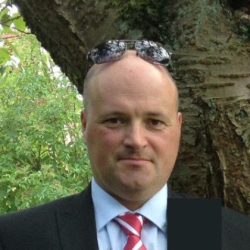 Latest posts by Paul Thompson
(see all)