Need car leasing for a new business? Do you know that 95% of start-ups don't get the financing they need to purchase a vehicle? Don't let your business become part of this statistic!
You can take advantage of car finance company leasing options for start-ups and new businesses. Carvine provides a guide to the finance options, credit check requirements, required documentation, short-term leasing eligibility, tax benefits, and special offers available for companies.
Explore all these possibilities and find out how car leasing can help your business grow.
Key Takeaways
Start-ups and new businesses struggle to get credit for vehicle finance
Business and personal leasing options are available, each with their own requirements and documentation
Short-term leasing is an option for start-ups and new businesses that doesn't require a credit check and includes insurance and maintenance
Carvine can provide more information and assistance with vehicle leasing for start-ups and new businesses
Finance Options
With a range of finance options available for start-up businesses, you can get the vehicle you need to make your business dreams come true – quickly and easily.
Business Contract Hire, Business Contract Purchase, and Finance Lease are all viable options for business car leasing deals. While credit checks and certain documentation are required to secure these deals, Carvine can provide assistance with obtaining them.
Eligible entities include
Limited Companies
PLCs, partnerships
VAT registered companies
Sole traders
Charities
Local businesses
Embassies
To apply for car leasing as a start-up business, you may need to undergo a credit check, which means companies will review your company history, including past payments made by the company, as well as its trading duration, to determine eligibility.
Documents such as bank statements or an opening balance sheet may be requested during the application process; if accounts aren't available, then cash flow forecasts may be appropriate instead. Specialist funders are also available for new start businesses with unique business structures who might have difficulty being approved elsewhere.
Soft Search Car Finance
When you apply for car finance with Carvine, we'll run what's called a "soft search", which, although visible to you, isn't visible to other lenders or finance companies. This type of credit search doesn't affect your credit score.
For directors with bad credit, they may require a director's guarantee to lease vehicles, while companies with poor credit scores tend to have larger initial payments than other companies looking for car leasing arrangements.
Despite the extra processing involved in applying for car leasing, there are many benefits such as cost-effectiveness due to no upfront payments along with the flexibility of contracts plus tax benefits, including VAT reclamation potential tax offsets based on CO2 emissions from electric cars or alternatively special offers specific towards leasing company used cars.
With Carvine offering soft searches and a quick and easy quote calculator, getting your new business rolling has never been easier!
Our car finance calculator helps you see how much your car loan repayments will be on a monthly basis.
Simply select how much you are looking to borrow and for how long.
---
Credit Check Requirements
Facing the worry of being denied credit, start-ups and new businesses must understand what's needed to secure a business lease first.
Generally, personal leasing requires personal finance history and documentation such as bank statements. For business leasing options, companies will need to submit an opening balance sheet or cash flow forecast if accounts are not available.
Credit checks may be necessary for certain entities like Limited Companies or PLCs, so it's important that directors with bad credit apply for a director's guarantee if needed. If your company has a poor credit rating, you might have to make an upfront payment larger than usual.
Leasing is cost-effective and offers flexibility over outright purchases, while saving time on paperwork and searching for vehicles. Maintenance packages can spread servicing costs out monthly and provide insurance cover alongside the vehicle lease.
Meanwhile, tax benefits include potential offsets based on CO2 emissions as well as VAT reclamation. Special offers are also available for company cars, including electric car leases and van leases too! To help narrow down the search for business lease car, Carvine provides a matching tool tailored to your needs.
Tax Benefits
Leasing a vehicle for your new venture can offer major tax benefits, such as VAT reclamation and potential offsets based on CO2 emissions, that'll put money back in your pocket.
VAT registered businesses can reclaim any input VAT on the purchase business use of the car or van up to 50%. This means you're able to make further savings on top of those already offered through leasing.
CO2 emissions may also be used to offset against taxes due if the vehicle emits less than 130g/km – potentially saving you more money!
Here's an overview of the tax benefits available when leasing a car or van:
Reclaim any input VAT (up to 50%)
Offsets based on CO2 emissions (less than 130g/km)
Cost effective and flexible payments
Spread servicing and MOT costs with a maintenance package
Required Documentation
Navigating the paperwork for leasing can be overwhelming, but you don't have to do it alone. Carvine can provide assistance with the required documentation and help make the process easier.
When it comes to vehicle leasing for a start-up business, certain documents are needed to begin the process. These include bank statements, an opening balance sheet, and sometimes a cash flow forecast if accounts aren't available. All of these documents provide proof that your business is financially sound and able to make the lease payments on time.
Specialist funders may also be available depending on your business structure or credit score. In some cases, a director's guarantee may need to be signed by someone with good credit to secure financing. Companies with poor credit scores may need to put down a larger initial payment as well.
Leasing is often more cost-effective than outright purchasing and offers flexibility with upfront payments due at signing. Leasing also allows you access to additional services like insurance coverage and maintenance packages, which spread out servicing costs over the term of your lease agreement.
Furthermore, leasing saves you time since all of the searching and paperwork will be handled by someone else so you can focus your efforts elsewhere within your business operations or other tasks related to launching your start-up company. Each customer is assigned a dedicated Account Manager who will guide them through every step of the process from beginning to end.
New businesses can take advantage of tax benefits such as VAT reclamation and potential tax offsets based on CO2 emissions from their leased vehicle too! From electric car leases, van leases, special offers for company cars – there's something for everyone when it comes to car leasing for start-ups! A personal car leasing matching tool can even help find just what you're looking for quickly and easily!
Short-Term Leasing
If you're looking for a more flexible option, short-term leasing offers an ideal solution for your new venture. It doesn't require a credit check and comes with insurance and maintenance included. This makes it perfect for start-ups as there's no need to pay large upfront costs or commit to long leases.
Short-term contracts can be renewed at the end of the term, giving you the flexibility to move on when needed without penalty.
You'll still need to provide certain documentation such as ID and proof of address, but this is typically less than what's required for traditional leasing options. You may also be asked to provide two references in order to secure a short-term lease agreement. The process is usually much quicker than other forms of leasing too, so you can get behind the wheel faster than ever before!
Another advantage of short-term leasing is cost savings – you can choose from pre-negotiated deals tailored specifically to your budget. Whether it's a van, car, or electric vehicle, there are plenty of deals available that could help lower your monthly payments. Plus, you won't have any unexpected bills since servicing and MOTs are included in most packages!
Short-term leasing allows start-ups access to vehicles they may not otherwise be able to afford while also offering flexibility and cost savings. If you're searching for an affordable way into driving, then this could be the perfect solution for your business needs!
Frequently Asked Questions
What is the minimum period for a business car lease?
Leasing a car doesn't have to be long-term; the minimum period for a business car lease is just 12 months. So, you can enjoy the benefits of leasing company car without committing long-term!
What happens if a business has bad credit?
If a business has bad credit, they may require a director's guarantee and/or make a larger initial payment. Companies with bad credit might also be subject to more stringent credit checks.
Are there any deals or discounts available for electric cars?
Yes, electric car leasing deals are available. Check out Carvine for business car lease deals and special offers on company cars.
Is there a minimum or maximum age limit for leasing vehicles?
Yes, there is a minimum and maximum age limit for leasing vehicles. Generally, you must be 18+ to lease and the vehicle you lease deal must not be more than 10 years old.
Can I lease a car without a maintenance package?
Yes, you can lease a car without a maintenance package. Allusion gives an edge to your vehicle's longevity and cost-effectiveness. Consider the pros and cons of doing so before making a decision.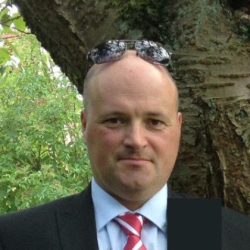 Latest posts by Paul Thompson
(see all)