UK weather is a law unto itself. Working through a spectrum of wet and mildly warm, it can make driving conditions all the more unpredictable and challenging for motorists.
Unlike other countries, where dealing with snow comes second nature, Brits are lucky to get an average of 15 days of snowfall a year. Plus, little of it settles to become the more car-friendly crunchy, grippy underfoot snow that tyres certainly prefer!
In short, as a country, the UK is massively underprepared for snow. Thus motorists are more at risk of being involved in an accident due to lack of experience and limited access to the right equipment.
With a third of Brits refusing to drive to work in the snow as a result, it's no surprise that the country often comes to a grinding halt. Here we've rounded up some helpful tips to help you feel more confident behind the wheel during the winter months:
The people have spoken
Before we plough through our top tips for boosting your driving confidence in the snow, we conducted a survey to get a clearer picture of what motorists think about the icier conditions.
Of the 1,900 people who took part in our survey, 30% claimed that they were afraid to drive to work in the snow. Over half (51%) said they would take public transport instead, but shockingly, 19% would call in sick to both avoid travel and to enjoy the charming weather!
Clearly, a slight dusting of snow is enough to make Brits think twice about getting behind the wheel.
Take time to plan your journey
Unless you are planning on driving over one of the UK's higher points, such as the Cairngorms in Scotland, then it's likely that you'll avoid the worst of the big freeze. However, roads will become more slippery and perhaps even flooded as the snow begins to melt away despite your local authorities bold attempts to salt everything within their power!

Due to the typical British weather pattern sitting anywhere between wet and warm, you're more likely to encounter slushy snow than the firmer stuff that the Swiss are so good at navigating.
So before you set off on any journey, plan it carefully. Get the latest traffic updates and see which roads to avoid in advance to make your travels as smooth as possible. Plus, make sure you tune in to local radio stations to get the most up to date travel news, so you don't have any surprises along the way.
Have a good field of vision
During the winter, steamed up windows are hard to avoid. Combined with a light dusting of snow and a hefty coating of seemingly unmoveable ice, you will need to spend some time clearing all of your car windows, mirrors, lights and the top of your roof before you even think of setting off.
Plus, while there's no law against you having snow on your car, if it (a) hits another car or (b) obstructs your field of vision, then you might land yourself in hot water with the law, earn some penalty points on your license and a fine to boot.
Don't forget the inside! If you cannot see through your windshield, you are breaking the law. The Highway Code clearly states:
"Windscreens and windows MUST be kept clean and free from obstructions to vision."
If you are caught driving without clear windows, you could earn:
A fixed penalty fine of up to £2,500
Three penalty points
A disqualification if you have already had a previous conviction for the same offence within the last three years
Take a look at our 'how to quickly de-ice your car this winter' guide for extra tips on clearing your car's windows fast.
While sitting patiently to defrost your car is time-consuming, at least you will be more than prepared for your journey through the snow before you set off.
Make sure you check your lights
As well as having a good field of vision, guess what? You also need to be able to see through all the gloomy weather!
Before going anywhere, you should check that all your lights are working, including your less frequently used fog lights, any lights that highlight your number plate, indicators, high beam and any others you can think of!
Then you need to make sure they are clear of snow, mud and general dirt so that you are as visible as possible to all your fellow road users.
Give your car a once over
While your car might be packing some of the best safety features money can buy, unless you regularly check everything from tyre pressure to if your windscreen wipers are in good repair, then you'll prevent your vehicle from performing as well as it could.
Make sure you check:
Tyres are your motor's main point of contact to the road surface, so make sure they have the correct tyre pressure, have enough tread, aren't threadbare or have any holes to ensure they can grip to the road well.
You may want to consider winter or all-weather tyres during the colder season. With a proven record of faster stopping times, better grip and a deeper tread, they are worth the investment – especially if you live in an area where snow is more common.
If you live in an area where conditions can get really challenging, you may want to consider snow socks or snow chains for added safety on the roads.
Keeping your screenwash topped up with a mixture that protects down to -35 will prevent the water from freezing.
If you don't, then your windscreen wipers will struggle in more extreme conditions and become essentially useless!
Before you switch on the ignition, have a look at your wipers to ensure they are not frozen to your windscreen. If they are stuck to the window, then make sure the auto wiper is switched off, and then let your car's engine and heater do the rest of the work.
Once unstuck, you can give them a wipe and make sure they are no tears along the blade. If there are or the blade has come away from the wiper, get them replaced as soon as possible.
Handy winter toolkit
While keeping a decent scraper and antifreeze in your car may seem like a no brainer, it's incredible how many people drive around without one to hand. So make a handy winter toolkit to keep in your motor to give you peace of mind throughout the winter months and beyond.
Ok, so the first one is less of a thing to hand and an actual human being! If you're afraid of getting behind the wheel to drive to work, then get a friend or work colleague to tag along for the ride. They can be an extra set of eyes and offer you a confidence boost along the way.
More practical items to have on hand could include:
A decent Sat-Nav or at least a charger for your phone to keep those live updates coming in from your favourite Maps app
Your mobile phone! Not only is this a lifeline in terms of navigation (see above!), but it is a handy tool for (a) getting road assistance and (b) booking an emergency hotel if needed – plus, should the worst happen and you need to get hold of the emergency services, then having a phone to hand is your best chance for help!
Breakdown essentials such as a red triangle, a tow rope, jack leads and more
However, to help keep you calm, you may want to create a playlist to keep your mind active as you drive. Or download various playlists that will keep you hooked, especially if you find yourself stuck in a snow flurry or traffic comes to a standstill.
Whatever you do, keep your time behind the wheel as free from distractions as possible. So take as few passengers as possible, only listen to music or the radio if you don't find your mind wandering and make sure you can see and you are seen!
The perks of COVID-19
While the pandemic has definitely been heartbreaking, terrifying and at times, dare we say it, boring, one of the best perks to emerge out of numerous lockdowns is the abundance of home working options.
Though many businesses are now back open, with most of their workforce back in the office, we're more prepared for home working than ever before. So if driving in the snow is a big no, then at least you have that option to fall back on.
As we face the frosty season, with its unpredictable weather patterns and driving conditions, sometimes the best option is to stay safe at home.
Are you amongst the third of Brits that fear driving to work in the snow? With a few simple tweaks to your usual drive and a supportive winter toolkit to hand, you can get behind the wheel with peace of mind this winter.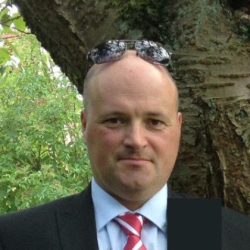 Latest posts by Paul Thompson
(see all)