While most of us abide by all the major driving laws, there are some motoring offences that are far more common than you might think. Before you know it, you've landed a £100 fine on the spot for no more than accidentally splashing a pedestrian with water as you drive by.
Though some offences are more severe than others, with police able to hand out on the spot fines for minor examples, the worst offenders could land themselves a prison sentence.
To understand more about UK driving laws and the penalties you could face if you break them, we've rounded up some of the most common motoring offences and the fines associated with them:
The research has spoken
Here at Carvine, we like to give you, the driver, the biggest voice. So to find out what you think and know about UK motoring offences, we conducted a survey. More than 2,400 of you responded with various answers, from dirty registration plates to swearing at other drivers; the results may surprise you!
Read on to find out more:
The differences between minor and major offences
Motoring offences vary in severity depending on whether they are categorised as minor or major, so it's essential to know the differences:
If you have ever received a Fixed Penalty Notice (FPN), it's likely you have parked your car in a restricted zone or been caught driving without an MOT or using your mobile phone device behind the wheel.
While a minor offence does break UK driving laws and could be declared to your insurance company, the offence in itself is less likely to cause harm to others. You'll likely receive a smaller fine, and it may affect your insurance premiums when you go to renew.
If you cause a major motoring offence, it's likely that you have caused harm or the potential to harm others or caused damage to property. From driving under the influence of alcohol or drugs to dangerous driving, you will likely face a judge at the magistrate's court.
It is highly recommended that you seek the legal advice of a solicitor throughout the process.
While in court, the magistrate will take into consideration your previous driving record, mitigating circumstances and any evidence from the event itself.
Fines are based on your ability to pay and your income, and some major offences can be settled via letter rather than attending court. However, the worst outcomes can result in prison sentences, a driving ban as well as hefty fines.
Playing loud music could land you a £5k fine
Playing music, listening to a podcast, or the radio is common for most drivers. From keeping you focused during an epic road trip to simply elevating your mood as you drive, there are plenty of reasons to turn the volume up.
However, Rule 148 of the Highway Code stipulates that playing loud music or switching a cassette or CD is a distraction and could land you a £100 fine and three points on your license.
In extreme cases, if your music is so loud you cannot hear other noises around you, it could be considered that your driving is hazardous to other road users and pedestrians. The penalty could be as much as £5,000 and get you a driving ban.
With 45% of our 2,400 survey respondents claiming they didn't know loud music could get you fined, nearly half of motorists are at risk of receiving more than just a fine.
The cost of cleanliness
Did you know that having a dirty or hard to read number plate could land you a fine? According to our survey results, over a quarter (28%) were unaware of the £1,000 penalty.
With police cracking down on motorists failing to keep their reg plates free from grime or obstruction, more and more motorists are facing on-the-spot fines. Your number plate shows the police where your vehicle was registered and who it belongs to, amongst many things.
But that's not all. Your windscreen, side and rear windows all need to be clear and free of obstruction. Setting off with poor visibility, including steamed up windows, dirt and ice, could cost you a £1,000 fine, three points on your license and disqualification.
According to our research, 34% of motorists were unaware of the fine. However, Regulation 30 of the Road Vehicles (Construction and Use) Regulations 1986 says:
'All glass or other transparent material fitted to a motor vehicle shall be maintained in such condition that it does not obscure the vision of the driver while the vehicle is being driven on a road.'
This is further enforced by Section 6 of the Highway Code, which states all windows and windscreens must be kept clean and free from obstructions to vision.
A costly mistake that can be avoided within minutes, keeping your reg plate and windscreen clear is worth the slight delay ahead of your journey.
Going hands-free
Our survey revealed that 60% of motorists were unaware that using a phone as a sat-nav, without hands-free access, could result in a £200 fine and six points.
While setting your route ahead of driving is entirely ok, picking up your phone while behind the wheel is a costly mistake that could cost you far more than just a fine. Falling under the same Highway Code regs as loud music, handling your phone is considered a distraction as you drive.
Then you need to consider where you are positioning your dashcam or device.
If your device causes your view of the road to be obstructed, you could land a £1,000 fine and three penalty points. So even if you are a fan of recording all your journeys via your dashcam to keep you safer on the roads, make sure your vigilance doesn't land you a day in court!
Keep road rage at bay
Even the calmest of drivers will have faced a bad driving day, where expletives were said, and perhaps gestures were made! But flipping off your fellow road user or using foul language could land you in hot water.
Under the Crime and Disorder Act 1998, it is considered a criminal offence to threaten individuals using abusive or insulting language. If caught, you could face a fine of up to £1,000 for disorderly conduct. With 56% of our respondents unaware of this law, it's easy to see how so many motorists are caught out on the roads.
For those preferring hand gestures, this could be seen as a failure to have complete control of your vehicle. Before you know it, you've landed a £1,000 fine and three penalty points on your license.
Be aware of pedestrians
As a driver, you have numerous responsibilities, from ensuring your vehicle is roadworthy to making sure that you cause no harm to those around you. Although it may seem insignificant, splashing a pedestrian with surface water on the road could land you a £100 fine and three points on your license – even if it wasn't intentional, there might still be a penalty.
According to our research, 49% of motorists were unaware of this minor offence, and yet, how often have you accidentally caused water to douse a pedestrian walking by?
Coming under the bracket of "careless driving" or driving without due care and attention, everything from swerving while changing the radio station to, you've guessed it, causing a pedestrian to get soaked as you drive by are fineable offences.
The more severe cases can go to court and could land you with a £2,500 fine and disqualification. So take care on the roads.
Having the incorrect car seat for your child
Not only is having your child seated in a car seat a legal requirement in the UK but buying the wrong seat could put your child's life at risk while also breaking the law:
Must conform to the United Nations standards, ECE Regulation 44/03 or ECE 44/04 (marked on the seat's label), or approved under UN R129
Must be suitable for the child's weight, size or height
Must be correctly fitted according to the manufacturer's instructions
So from birth to 12 years old, your child must be seated in an appropriate car seat that ensures their safety while travelling in your vehicle. If a child up to the age of 14 years old isn't in the correct car seat or wearing a seatbelt while you are driving, you could be fined up to £500 if you go to court.
However, there are exceptions to every rule, including travelling in taxis, minicabs or Ubers, and emergency situations.
But remember, the driver is always responsible for ensuring all passengers are safely strapped in. So always check before setting off.
UK motoring laws are ever-evolving to keep you and other road users as safe as possible. With police cracking down on more minor offences to handing out on the spot fines, there's never been a better time to sharpen up your driving knowledge!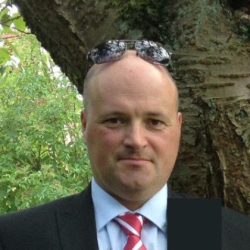 Latest posts by Paul Thompson
(see all)