For many drivers, having a personalised number plate is something that can really make their car stand out.
The plates are unique, but they can be quite expensive though there are lots of people – as you can see on most UK roads – who feel that they are worth the investment.
And private registrations are becoming increasingly popular each year since a good registration can make a car feel more personal than any other modification.
While you could carry out a custom paint job to attract attention, it cannot guarantee uniqueness – which is what a private registration guarantees when you have a one-of-a-kind plate.
It's also worth noting that eight of the ten most expensive number plates in the UK have been bought since the 2007/2008 financial crisis, showing that people are confident in their value despite uncertain times.
For many investors, selecting a private plate is a wise investment that is sure to hold or increase its value.
And if you fancy a truly unique plate then the most valuable number plates are those that fetch high prices at car registration auctions when they can go for hundreds of thousands or even millions of pounds.
However, competition among bidders is fierce, and the prices reflect that.
So, if you're looking to add a prestigious plate to your collection, be prepared to pay the top price.
Here is the Carvine guide to the UK's most expensive number plates.
25O
Paid: £518,480
Sold: November 2014
Worth: £750,000
The 25 O is the UK's dearest private number plate. It was sold in November 2014 for £518,480 and its current asking price is £750,000. The plate, which refers to the Ferrari 250 TR and 250 GTO, was purchased by the classic car dealer and collector John Collins. He put the plate on his 1961 Ferrari 250 SWB – which he bought for £10 million.
X1
Paid: £502,500
Sold: November 2012
Worth: £1 million
The X1 number plate is the second most expensive – and the oldest – number plate in the UK, fetching £502,500 in November 2012. Not much is known about the plate's owner, but DVLA records show it is currently attached to a Mercedes bought within the last three years. If this registration number were to be sold today, experts say it could sell for more than £1 million.
Originally created in December 1903, the number plate has been described by various experts in the field as being 'historic' and 'exceptional'. The plate's value has nearly doubled – this is mostly down to the plate's rarity and age. However, the plate's owner might have his or her eye on using the exclusive X1 plate on the McLaren X-1 – an exceptional one-off creation that was unveiled in 2012 with a reputed price tag of £4 million. That would be a great combination of avant-garde car design style with the old-world plate to make the vehicle even more eye-catching.
G1
Paid: £500,000
Sold: September 2011
Worth: £1 million
The G1 plate sold for £500,000 in September 2011 and, for nearly a year, proudly held the title of being the UK's most expensive car plate. The current asking price for the plate is £1 million – and has nothing to do with Gibraltar's G1 plate. The plate is being used on a Land Rover currently. If the owner were to sell the plate today, they could potentially double their money.
RR 1
Paid: £472,000
Sold: September 2018
Worth: £500,000
Created in 1925, the RR 1 licence plate cost £472,000 in 2018. The last time the plate was sold was in the late 1960s when it was worth less than £5,000. The plate was sold at a registration plate auction in Goodwood to an unknown bidder – however, there are suspicions that the bidder was representing Bentley cars. That makes sense since a great registration plate for a Rolls-Royce would be 'RR'. The number plate RR 1 is currently registered to a Rolls-Royce Phantom – presumably one made when the Bentley was owned by Rolls-Royce.
F1
Paid: £440,625
Sold: January 2008
Worth: £10 million
This plate is iconic for all the right reasons. It has obvious links to Formula 1 racing, but it wasn't bought by a driver or team owner. Instead, it was bought by entrepreneur Afzal Khan – who says he has since received offers of up to £10 million for the plate. The rarity and a clear link to a prestigious sport – plus a demand from potential owners – mean the registration number is now worth £10 million. The plate can be found on Mr Khan's Bugatti Veyron.
S1
Paid: £404,063
Sold: September 2008
Worth: £1 million
The S1 was the first number plate to be issued in Scotland – some say the first legal plate – and remained in the family of its original owner, the motoring pioneer Lord Kingsburgh for many generations. S1 was the most valuable number plate in the UK after fetching £404,063. The current estimated value of the plate is £1 million. The buyer was anonymous, but it was believed that it was put on a Skoda initially but can now be found on a Mercedes car.
1D
Paid: £352,411
Sold: March 2009
Worth: £500,000
A great choice you might think for the popstars One Direction, but the 1D licence plate was sold in 2009 at a DVLA auction. It was bought by a businessman for his wife's Bentley. It is estimated to be worth £500,000 now – which is more than the value of the Bentayga it has been fixed to. It's worth noting that the other registration numbers have increased by a much larger amount than this one – is that down to the misunderstood One Direction connection?
1S
Paid: £340,000
Sold: March 2010
Worth: £600,000
The 1S license plate was sold for £340,000 and is attached to a Bentley. Not much else is known about the history of the plate, but it has been estimated to have nearly doubled in value since being bought. This is another example of how well the market for private number plates in the UK is performing.
M1
Paid: £331,500
Sold: June 2006
Worth: £1 million
One of the most valuable number plates in the UK is M1, which was purchased for £331,500 in 2006. The rare plate is registered to a Bentley Flying Spur, but its estimated value today is around £1 million. It was bought by self-made millionaire Mike McCoomb – though it was as a present for his son who was six years old at the time. Apparently, the plate is now on his son's car.
GB1
Paid: £325,000
Sold: Nov 2009
Worth: £500,000
The GB1 is the last plate on our list. It was sold for £325,000 in 2009 and is currently being displayed on a Rolls-Royce Phantom. The plate's owner – and the car it is on – is probably a proud Brit! If so, they had deep pockets to invest in the plate when it became available – and they'll do well when they come to sell it on.
Is a private number plate a sound investment?
Private number plates are definitely a good investment. Not only is the purchase fun, but you could make a significant profit if you sell later.
This is especially true for the earliest plates issued in Britain, which are now more than a century old and are considered antique.
As motoring journalist Quentin Willson once famously claimed – a decent personal registration can be better than having 'money in the bank'.
Why buy a unique UK number plate?
Most people buy private number plates for the prestige and exclusivity that comes with it.
The value of a registration plate is dictated by many factors, such as the demand for that number and how visually appealing it is.
For example, anything with the number '1' tends to be more valuable because there tends to be so few of them available.
Similarly, plates with initials are often more valuable if there are a lot of people with those initials – again, that's because the demand from buyers pushes up the price.
Ultimately, people are willing to pay more for a private number plate that is unique and personal to them.
The most expensive UK number plates
So, there you have it, some of the most valuable number plates in the UK. If you're looking to add a bit of luxury to your car, then one of these could be perfect for you.
The DVLA holds auctions of unusual plates and new registrations that are worth more than normal – it is possible to pick up a bargain that you could use for a while before selling on.
If you decide to visit an auction dedicated to rare and unique registrations, then be prepared to pay a pretty penny!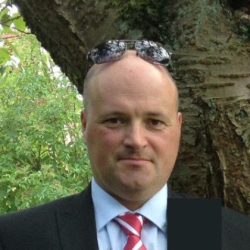 Latest posts by Paul Thompson
(see all)