Pets bring so much joy to our lives, so it makes sense that they are named after one of our other big passions: cars! Whether Herbie, Kit or General Lee tip your fancy, there's something about the old classics that both celebrate and make our pets all the more loveable from their namesake alone.
From dedicated petrol heads to the passionate car enthusiast, we've searched high and low to find out what the most popular car-inspired pet names are right now:
It's all in the name
Pets, like children, make the world go round. They become one of your most loyal companions, and they live without judgement or without expectation, and more than that, they become integral members of your family.
Choosing the right name for your new pet can be a challenging task. But, when inspiration strikes, it's usually from a subject that you are passionate about, and if you're reading this, it's likely that one of your greatest passions is cars!
For nearly 150 years, the world has seen the evolution of the motoring industry unfold. From the first automobile in 1879 to the high-tec, eco-friendly Tesla, there have been many triumphs and unexpected twists and turns in one of the most exciting industries.
But what is it about cars that capture us? Is it the sense of freedom, security or wanderlust? Or does it all come down to status, symbolism or something else?
Our pets can stir similar feelings in us too. So finding a name that does justice to your animal companion needs some serious thought. But don't worry, here are some of the most popular car-inspired names to help you choose the name that suits the personality of your new fluffy friend:
Diesel
Diesel might be on the out as a fuel source, but that doesn't mean your cute pup can't have the name! Popular amongst Staffy, Bulldogs and Labradors, this name is one for all the petrolheads out there!
Rover
Rover is the ultimate pet name. Inspired by the trailblazing four-wheel-drive Land Rover, you can see why this has become so popular over the years.
Rover are well known for its experimental designs since coming on to the scene in the early 1900s, including the JET1 prototype and of course the sports phenomenon collab Rover-BRM. Whether you recognise the Viking Longship badge or the groundbreaking Range Rover, there are plenty of reasons to call your pet after this fantastic brand.
Romeo
Forget the Montacutes and the Capulets, this Romeo is inspired by the Italian luxury car brand, Alfa Romeo. Paired with outstanding performance and dynamic engineering, it's no wonder pet owners are jumping on the bandwagon with this name.
Torque
Torque is crucial to how power is generated from your car's engine, and how quickly you can go from 0 to 60! Perfect for an energetic pup, kitten or your favourite lizard, this is a standout name worthy of your pet.
Herbie 
Herbie the Love Bug is the lovable VW Bug that has a mind of its own. Loyal, fun and willing to go above and beyond for his race car buddy Jim Douglas, Herbie has had many adventures in his time. With the updated 2005 version still doing the rounds on Disney+, Herbie has captured the hearts of generations.
Kit
Kit cars serve as a passion project for many motor enthusiasts. They allow you to create a unique vehicle that is not only built (partially or completely) by you but can support all the mod cons you like.
Red
NASCAR Hall of Famer Red Byron was the competition's first-ever champion. He was a World War II vet who had overcome serious injury to become one of the most well known and beloved racers of all time.
Byron racked up 11 incredible victories in his Vogt-prepared and modified 1939 Ford which earned him the title at the 1948 NASCAR Modified Division championship. Later he won the first NASCAR Strictly Stock Division (now known as the premier series) championship the following year.
His remarkable feat will never be equalled or rivalled.
Aston
Few cars can match the quintessentially British Aston Martin. Well known for luxury meets cutting edge sporting prowess, it's easy to see why so many people view Aston Martins as works of art.
Whether you're enamoured with the V8 Vantage GT, the Ulster or the DB5, this iconic brand deserves your attention.
Punchy, thrilling to drive and never fails to pull out all the charm, there are plenty of reasons why you'd want to call your cute pet after the remarkable state of the art Aston Martin.
Axle
Your car's wheels simply cannot function without an axle. They are a core component of your vehicle, that not only rotates the wheels but support the weight of your car.
Bumper
Your car's bumper is designed to absorb impact in event of a collision, all while protecting your vehicle from further damage and keeping you and your passengers safe It's also a great name for particularly clumsy pets!
Whether their paws look too big for their body or they occasionally trip over their fluffy tail, Bumper is as endearing a name as they come for your animal companion!
Sparky 
Sparky is one of those lovable British slang terms that means electrician. But put into the context of cars, Sparky conjures up all sorts of images – from the spark plugs hidden in your engine to the electric spark that ignites your engine into action.
Shelby
Carroll Shelby is the mastermind designer, racing driver and entrepreneur that helped bring the iconic Shelby Mustang and Shelby Cobra to the spotlight. Enigmatic, electric and all-out driving fun, these motors helped change the landscape of the automotive industry for years.
A fitting name for an exuberant, big personality pet if you ask us!
Cobra
A legendary American muscle car, Mustang's Shelby Cobra, has been turning heads since its debut in 1965. Fast, sleek and full of boundless energy, Cobra is the perfect name for bouncy, happy pups that have a lot of energy to burn!

Mini
Sporty, tiny and bringing all the fun, there are plenty of reasons why pet owners love the name Mini!
Inspired by the original Mini Cooper, this city chic, fun to drive motor brings all the joy of driving in a compact, trendy design that never fails to deliver all the punches.
Created by Formula One team owner and racing legend John Cooper, motorsport is in MINI's DNA. He combined the urge to race and sprint and packaged it in the Mini Cooper. The racing world has never been the same since, and this groundbreaking brand continues to inspire generations.
Bentley 
Suave, sophisticated and oozing with style, Bentley is one of Britain's most iconic brands ever. Celebrities love them too! From Iron Man himself, Robert Downey Jr to Jennifer Lopez and David Beckham, this flash automobile has become a statement piece in itself.
Porsche
Porsche are the epitome of sports cars. They have created a legacy that has spanned nearly 90 years and continues to push the boundaries of design, tech and more. So why not call your pet after this mesmerising brand?
Anyone that hears you calling "Porsche" in your local park is going to know you mean business when your fluffy companion comes running!
DeLorean
Back to the Future first introduced us to accidental heartthrob Marty McFly (Michael J Fox) and wacky inventor, Doc Brown (Christopher Lloyd) in 1985. But one of the star players of the franchise is the subversive DeLorean. With its scissor doors and fire inducing speed, this time travelling motor sets the bar high.
The DeLorean may have been a vision of the future, but it has stood the test of time to become one of the most coveted vehicles of all time.
Mercedes
Nothing screams luxury car more than a Mercedes-Benz. With its blend of style meets sportiness and performance, Mercedes has created one of the most refined images associated with a vehicle ever.
Whether Lewis Hamilton's behind the wheel and breaking records at Formula One or you prefer the comfort of your own EQS or GT, one thing is clear: Mercedes know how to leave a lasting impression.
Bumblebee
The wildcard.
If you grew up with the original animated series of Transformers, Bumblebee was a charming yellow VW Beetle that was a loyal companion like no other. Fast forward to the Michael Bay-produced film in 2007, and Bumblebee has had a transformation of his own, into an American muscle car: a gorgeous yellow Camaro with black racing stripes to match.
Yes, Bumblebee is slightly clumsy, but he is the loveable sidekick that kept the live-action film franchise alive!
Chevy
Another American muscle car inspired-name, Chevy (short for Chevrolet), has become one of the most sought after names for your pets! Whether you love the classic Chevy Trucks of the 1950s or like the beloved Bumblebee above, the Chevy Camaro, it's clear we're enamoured with Chevy – just like your new beloved animal friend!
Bring the world of pets and cars together, and you've got a match made in heaven with some of the most iconic car-inspired names given added personality to your animal companions! Which one will you choose?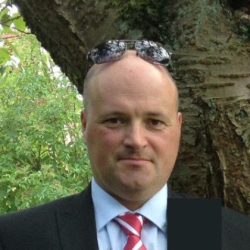 Latest posts by Paul Thompson
(see all)