Unsurprisingly, where you live can impact how much you pay for your car insurance. Premium prices can alter drastically between postcodes, even if they are only a few miles apart.
Everything from your employment status to where you park your car overnight is all factors considered by insurance companies. But, where you live often tips the scales more. Drivers in London for instance can expect to pay up to 50% more than the national average. That's about £366 higher than most UK drivers and can set you back over £1,000 a year. 
Want the low down on the lowest car insurance prices by area in the UK? Read on to find out where your insurance premium lies:
Top 10 lowest car insurance areas in the UK
To put things into perspective, eight out of the ten lowest car insurance areas in the UK can be found in the South West – five of those belong to Devon.
According to recent data, the top 10 lowest areas can be found at:
Caradon, Cornwall: £469.86
West Devon: £471.26
South Hams: £477.60
East Devon: £485.53
West Someset: £489.50
North Devon: £490.73
North Norfolk: £493.00
Teignbridge: £493.08
Scottish Borders: £495.40
Stroud: £496.07
Comparatively, drivers living in Newham can expect to pay a monumental £1,463.74 annually, with Tower Hamlets quickly catching up with a £1,413.14 average policy.
Stepping away from the London areas, drivers in Manchester can expect to pay a whopping £1,260.24, and those in Birmingham average £1,173.50.
What do insurance prices look like regionally?
Now you've seen the cheapest areas, how do insurance premiums shape up regionally? Well, let's see:
Top 5 low car insurance averages by region:
South West: £551.37
Scotland: £584.76
Wales: £603. 57
South East: £647.80
East Anglia: £670.40
Top 5 high car insurance averages by region:
Greater London: £1,107.60
North West: £839.39
West Midlands: £827.95
Yorkshire & The Humber: £782.28
East Midlands: £694.26
But what makes some areas more expensive than others? Let's take a look!
Why your address matters
All car insurance companies have to start somewhere, and your address is the most obvious choice. To determine your premium, insurers need to calculate the risks of you making a claim, so underwriters will closely look at the statistics in your local area to work out how risky your postcode is. They will assess:
Crime rates
Population density
Traffic density
Number of claims in your local area (including the amount of fraudulent claims)
Personal injury claims in your local area
Number of accidents in your local area
High risk road systems, such as roundabouts, cycle lanes and junctions
While taking these important factors into account, it's easy to see why postcodes in rural, low population areas are considered lower risk than more densely populated inner-city and urban postcodes. By just looking at the top 10 areas above, 80% of those postcodes belong to the South West of England. 
How to get cheaper car insurance
Regardless of where you live, there are a few simple ways to bring your insurance premiums down. Whether you're looking to get your first policy or wish to make a renewal, here are a few helpful tips to get you the best competitive price:
Time of year: research shows that February is the cheapest time of year for car insurance, whereas December is the most expensive
Lower your annual mileage
Build up a good no claims discount
Increase your voluntary excess
Whatever insurance deal catches your eye, make sure you look closely at the terms and conditions. Although you may have found the cheapest policy, if it doesn't offer enough cover, you may end up paying more in the long run. Look closely at all the information regarding claims, and ensure you are covered for any damages.
Generally, new and young drivers pay much higher car insurance premiums as they are typically more likely to be involved in a road accident. Higher risk means that insurers will assume that this group of drivers is more likely to claim on their insurance policy, which unfortunately means that you are faced with much more pricey premiums. 
Don't worry though, as you get more experience on the roads and avoid any potential risks and accidents, your premiums will lower over time.
Aim to build up your no-claims bonus too, as insurers will instantly see that you are low risk and less likely to make any claims in the future. If you do have a minor accident on the road, consider paying for the repairs yourself, as this will preserve your no claims discount and keep costs down in the future. 
Is it cheaper to insure an Electric Vehicle (EV)?
With growing pressure to upgrade your car to a greener, zero-emissions EV, is it time to make the leap? 
Lower insurance premiums may be more accessible in low-risk, rural areas overall, but according to Which, "electric vehicles are now typically £45 cheaper than petrol and diesel cars to insure." Although this may not feel like a huge incentive to trade in your reliable, combustible engine, it will make a positive impact on your insurance premiums, and save you money in the long run. 
Comparatively, diesel and petrol insurance premiums averaged £611 between January and March 2021, whereas the average EV premium cost £566 – with the cheapest EV premium weighing in at £478.
With the looming ban on new petrol and diesel sales coming into force in 2030, swiftly followed by the outlawing of new hybrids in 2035, there is an undeniable shift in the motoring industry. Coupled with a range of government incentives to "go green" and more accessible insurance premiums on offer, there's never been a better time to consider upgrading to an EV. 
How does your area affect your car insurance? With a few simple tweaks to your cover, you will bring your premiums down in no time regardless of where you live.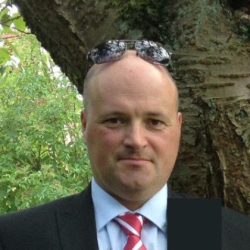 Latest posts by Paul Thompson
(see all)